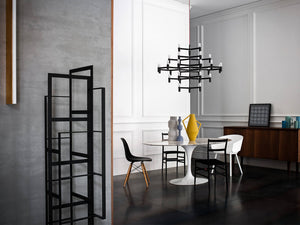 A Day in a Life
For summer, Spotti envisions a setting with a modular and flexible vision of space and facilities, featuring full-height Lema bookcases in natural wood to lighten it up and mark the space available. The style is a mixture of sophisticated and timeless elements, like ceramic concrete walls and Oikos travertine, fabrics made of pure linen by Dominique Kieffer, the Le Corbusier designed Cassina re-editions and the Timeless bath collections by Agape.
All of this is joined by a selection of contemporary design and research from the latest Salone del Mobile: lamps by Michael Anastassiades and the historical company Kalmar Werkstatten, proposals by Establish & Sons and also by the young Japanese designer Chikako Ibaraki, all mixed with vibrant graphics, a textile with chromatic colour palette and a selection of original material chosen from producers from around the world, including Ricordi-Sfera, Plus Minus Zero and Vertigo Bird. Adding to the atmosphere are some pieces from the CeramiX collection by the creative duo CTRLZAK, creating the right blend of East and West.
 This exhibition will also introduce a preview of some pieces from the Spotti Edizioni collection, developed in collaboration with Studiopepe: a sofa in two sizes, a bergère sofa and a double bed, all covered with fabrics by Dominique Kieffer.
Set-up: Studiopepe
Photo by Andrea Ferrari