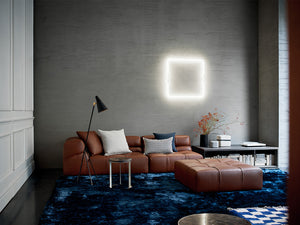 Home + Winter + Home
Winter is on the way and with it come the little habits of the season. Now is the time to wrap up in a blanket to read a book or sip a cup of hot chocolate…to impress your friends with a home-cooked dinner or scatter presents under the tree on Christmas morning. Each time of year has its special way of living at home.
On the 15th of December 2011 in our Viale Piave showroom, we launch a whole new display dedicated to winter and the love of staying home. To create a comfortable and sophisticated atmosphere, Spotti and Studiopepe play with winter colours, warming them with accents of cherry and cognac. Living room sofas and tables are reinterpreted for warmth and comfort, with long-haired carpets and fabric from Dominique Kieffer in pure virgin wool, crumpled canvas and velvet.
Lamps from Michael Anastassiades and Ruben Lighting create a special atmosphere, while beds from Ivano Redaelli invite repose. How can it be boring in the midst of such peace? Neon installations in the store and in our windows add a contemporary note of energy to the most frigid nights of the year.
Set-up and styling by Studiopepe.
Photo by Andrea Ferrari.