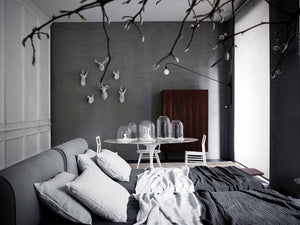 Designed by hand
Spotti's Christmas 2010 layout centres on the world of hand-made items. The design features a display of about 25 creations carefully selected from amongst the leading Italian and international designers. The items are distinguished by the artisan know-how reflected in their design and function. The showcased designers include Siba Sahabi, Alon Meron, Kuhn Keramik, Incredix Lab Design, Kyouei Design, Marama, Giovanni Scafuro and other big names.
potti explores the theme of craftsmanship further, presenting the Italian preview of furniture from the MABEO company, originally from Botswana. Peter Mabeo, owner of the company by the same name, uses artisan techniques of the highest quality to create minimalist-design objects: never superficially "ethnic" but rather with echoes of African traditions.
Exhibition and set up by Studiopepe.
Photo by Andrea Ferrari