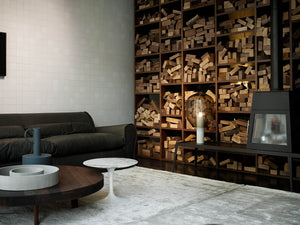 S come Specchio O come Origami
On the occasion of Christmas, the Spotti showroom in Viale Piave is completely renewed by Studioopepe designer duo, that remember Nordic atmospheres: the firewood approaches the classic white Marazzi tile; the boiserie instead contrasts the Classic taste to the main wall that reproduces the image of a real size forest.
Baxter and B & B Italia furniture are mixed by Studiopepe with Riva 1920 and Ivano Redaelli furniture. The dark shades of furniture contrast to the more neutral backgrounds, creating a sophisticated effect with a contemporary taste.
For the accessories we choose David Taylor candlesticks and its concrete and neon lamps that give an industrial touch.
Preparation and Styling: Studiopepe.
Photo by Andrea Ferrari