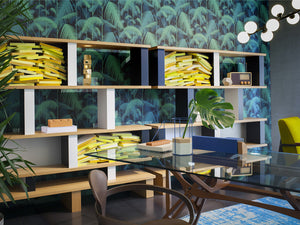 Summer Tales
Spotti Milano gets ready for Summer 2014 with a new exhibition setup by Studiopepe, a sequence of spaces where to relax and pleasantly spend time without ever leaving the city. Summer Tales is in fact an imaginary journey between the coasts of South America, among the calm, laid-back atmospheres of a house between the ocean and the jungle.
The colour palette spaces between the green-blue tones to the terracotta ones; a tropical wallpaper, some luxuriant plants and beautiful solid-wood furniture help recreating the tropical effect. A clouf of Nelson lamps by Moderica in the window shop enhances the dining room and the outdoor area furnished by Kettal.
Accessories in wood, ceramics and glass help giving the finishing touch to this new Studiopepe setup, thanks to Livia Polidoro Ceramics, vases by Antonio Forteleoni and Manuela Metra, Ilaria Innocenti's terracotta desktop accessories and the beautiful Wooden Radio by Magno.
Set up by Studiopepe
Photo by Silvia Rivoltella