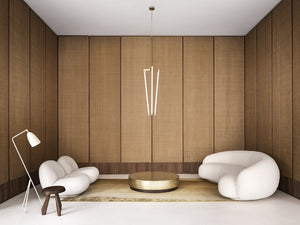 A new Spotti
The founders Claudio and Mauro Spotti have collaborated with the architecture and design studio Quincoces-Dragò, run by David Lopez Quincoces and Fanny Bauer Grung, to develop interior environments that reflect the new private and contract consultancy service offering, now broader and more tailor-made than ever.
Clean lines, natural light and delicate finishing details have transformed the space, redefining the volumes and creating a warm and welcoming atmosphere. Spotti Milano always maintains its unmistakable taste, distinguished by a cross offer of furnishing choices ranging from iconic classics to the latest interior design trends, identified by its founders in collaboration with Quincoces-Dragò through a passionate research activity.
It is from this synergy that QD + Spotti is born: a project of boiserie, doors and pivoting panels featuring elaborate wood craftsmanship and declinable in different finishes. The large walnut and straw panels that intersect the space into different ambiences epitomise the importance of tailor-made, the key value found throughout all exclusive consulting services offered by the Milanese store and number one feature considered by Quincoces-Dragò when developing the project.