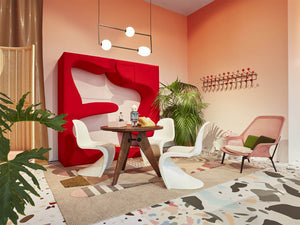 Spotti + Vitra - Urban Living Milan
Designer, painter and illustrator for leading companies operating in very diverse environments and industries, Elena Salmistraro has a multifaceted personality. She used her unmistakable trait to portray the way she sees Vitra and to explore the topic of Urban Living – this year's Home Stories for Spring theme– by playing with the Colour& Material Library of the Swiss company and developing the interior design of an exquisite location such as the historic furniture showroom Spotti Milano.
The result is intense, rich of hues, signs and references, which are not mere cultural hints, but rather a contemporary reinterpretation, a radical and instinctive experiment.
The experiment is repeated in the four living, dining, study and play areas, which blend together perfectly to generate a new interior concept which is fresh, lively and never boring, just like the city that is being represented.
Photo: Omar Sartor