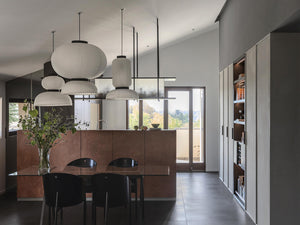 A designer apartment for two
An attic in Brianza is converted into an elegant and welcoming home for a couple, embodying the very essence of their personalities, professions and passions. Ikigai, the name chosen by AIM architects for the project, is a Japanese word which epitomizes the connection between what we are, what we do and what we love.
Japan is also the inspiration behind the aesthetics featuring clean lines and sensual forms. The living room is dominated by freestanding designer furniture, which the couple are passionate about.
Darker touches make the light-coloured furniture stand out, lending the space a unique character. A long corridor leads to a walk-in wardrobe – and to the bedroom – containing the clothes and accessories of a fashion professional. It combines function and aesthetics, meeting practical needs whilst creating ambience.