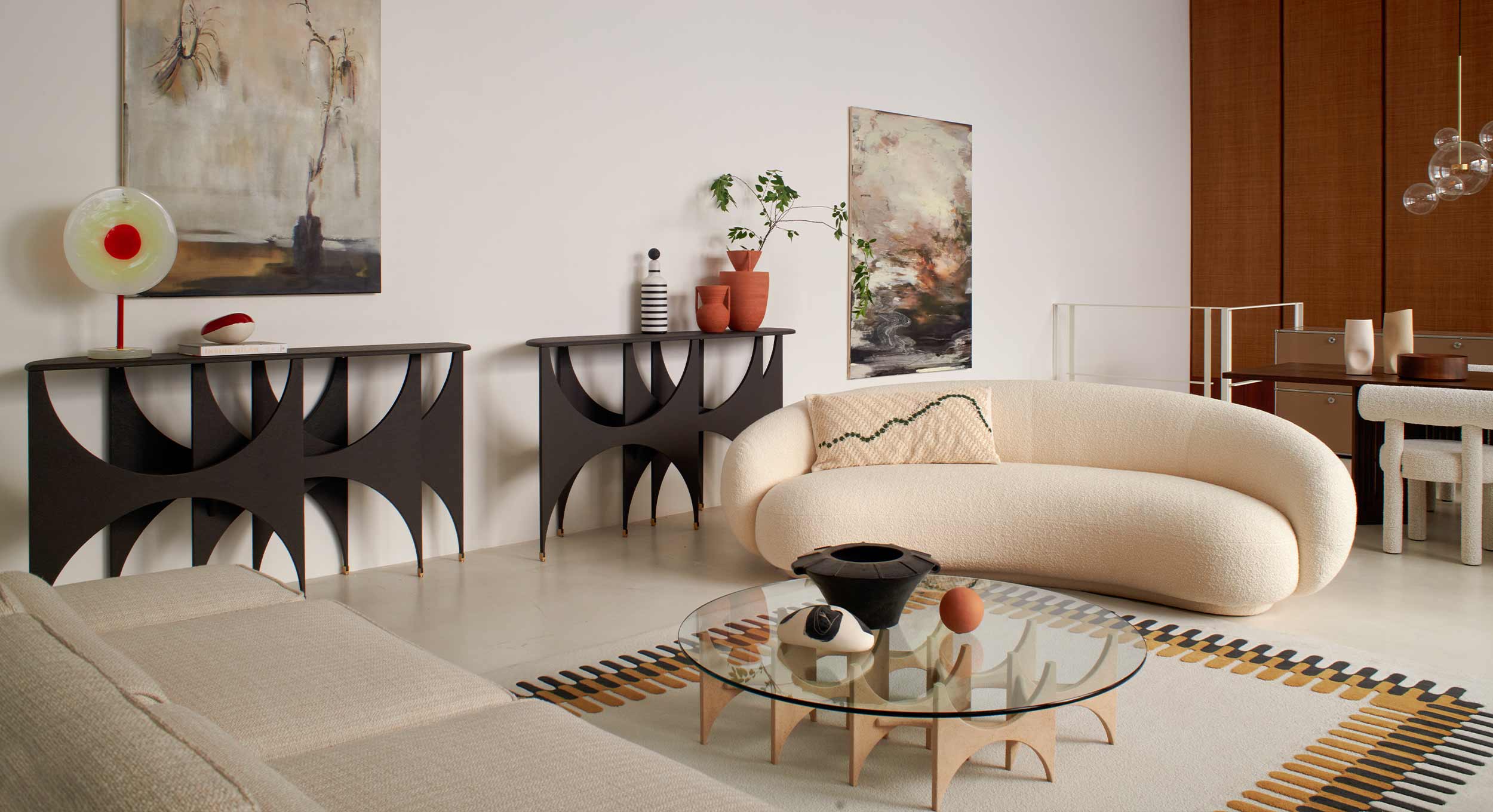 Natural Soul
Spotti renovates its spaces with a new set-up with a natural soul.
A neutral-toned palette characterizes the new project designed by Motta Architecture for Spotti, creating a relaxing and comfortable atmosphere. The space, homey and elegant, narrates all the rooms of the house through a single unifying thread: the returning to the origin of the matter, while using natural finishes such as brushed woods, softly textured fabrics and textured concrete.
Welcoming us, a living room starring SEM's furniture: Hannes Peer's Nuvola sofa in a new dark-stained rosewood finish and Vormen's Gomito chair, alongside the Dogon desk and the Nenet chair, in natural ash, part of Motta Architecture's new Néolithique collection.
In the alcove, an intimate and cozy bedroom houses Bolzan's Jack bed alongside NOOM's Freyja and Acerbis' Florian side tables.
The Isle carpet by cc-tapis and Ingo Maurer's Floatation lamp complete the ambience.
The bathroom area features Agape's Lariana bathtub with a burnished brass faucet and Angelo Mangiarotti's Bjhon sink, in black Marquinia marble. Facing the bathtub is Porro's Storage wardrobe that, with its glass doors, reveals Dedar's striped cotton satin upholstery. On the side sits the Due Più armchair, designed by Nanda Vigo and presented by Acerbis during the 2023 Milan Design Week.
In the left display, a lighting composition by Taiwan-Lantern, in walnut, bamboo and hand-painted fabric, brightens a living room that houses Edra's sculpture-like On The Rocks sofa and the soft and sensual Flock Lounge chair and ottoman, both designed by NOOM.
The new Néolithique collection
The tour continues through a dining room, centered around Motta Architecture's Néolithique collection. The Himba Storet cabinet, Huli table, Chimbu stools and Nenet chairs, are all lit up by Giopato & Coombes' Cirque Pendant Ellipse.
The last area, bright and refined, is home to a couple of sofas with welcoming and comfortable shape: SEM's Muir, designed by Hannes Peer in a new dark-stained ash finish, and Tacchini's Julep Soft. A cozy corner enriched by details like the Magico carpet, designed by Marcante Testa for SEM, and Hannes Peer's Butterfly Console in the new "concrete touch" finish.
Completing the picture is Micol Cerani's styling.
Discover all the products