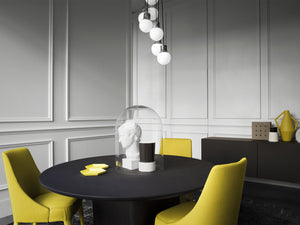 Maxi minimal
Maxi Minimal, the new fall-winter 2013 setup curated by Studiopepe that reinterprets 80's memories and moods with the famous Rimadesio systems. M rigorous atmosphere that runs between black and white contrasts, with coloured accents, accentuated geometries, graphic elements and unexpected combinations.
These are the colors chosen to emphasize environments with a strong expressive charge, in which contemporary furnishings interact with true icons of the history of design. An elegant atmosphere thanks to the iconic pieces by Azucena, the modern and colorful rugs from the Carpet Reloaded series by Golran, the marbles from the new Just Black collection by Marsotto Edizioni, the new pieces by & Tradition and the wall coverings from the Travertino collection by Oikos.
The new Spotti winter also awaits you with a careful selection of accessories with a strong visual impact; from emerging designers such as the Swedish Hilda Hellstrom, to the Milan-based Canadians of Oeuffice, to the British Chisel and Mouse, to the famous pieces of Memphis Milano that have made the history of design.
Studiopepe set-up
Photo by Silvia Rivoltella