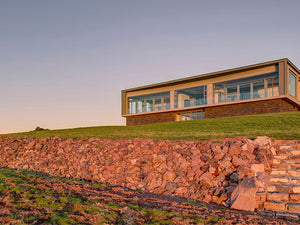 A villa inspired by the horizon
A villa on the hillside overlooking the coast south of Sidney. On one side, the flat line of the horizon on the Pacific ocean. On the other, the green Australian countryside. Designed by architects Philip Thalis and Laura Harding, Horizon House was shortlisted for Habitus magazine's 2018 House of the Year Awards.
A contemporary, minimalist design reduces environmental impact. Materials combine modernity and tradition: cold concrete walls are offset by warm ancient oak floors.
The interiors reflect this philosophy. The design of the living/dining/kitchen wing, with huge windows offering panoramic views over the ocean, is sophisticated and elegant. The same style continues in the bedrooms, looking inwards to the palm trees in the courtyard and the rural landscape behind it.