The Remasters collection at Spotti Milano
Acerbis presents the entire new Remasters collection at Spotti Milano, live for the first time. Creative directors Francesco Meda and David Lopez Quincoces, with a visionary sense of the contemporary and a passion for the history of design, initiated an awakening of the Acerbis archives, relaunching creations whose modernity remains at the forefront even today.
A cutting-edge industrial production that boasts collaborations with some of the most innovative Italian designers since the 1960s under the guidance of Lodovico Acerbis, to name a few Vico Magistretti, Nanda Vigo, Gianfranco Frattini and Giotto Stoppino.
The occasion sees the debut of Acerbis' new graphic identity conceived in collaboration with Studio Temp. Recalling the vigorously pragmatic visual identity of 1970s-era Acerbis, the updating of the brand's powerful graphic heritage goes hand in hand with the reworking of its archival creations .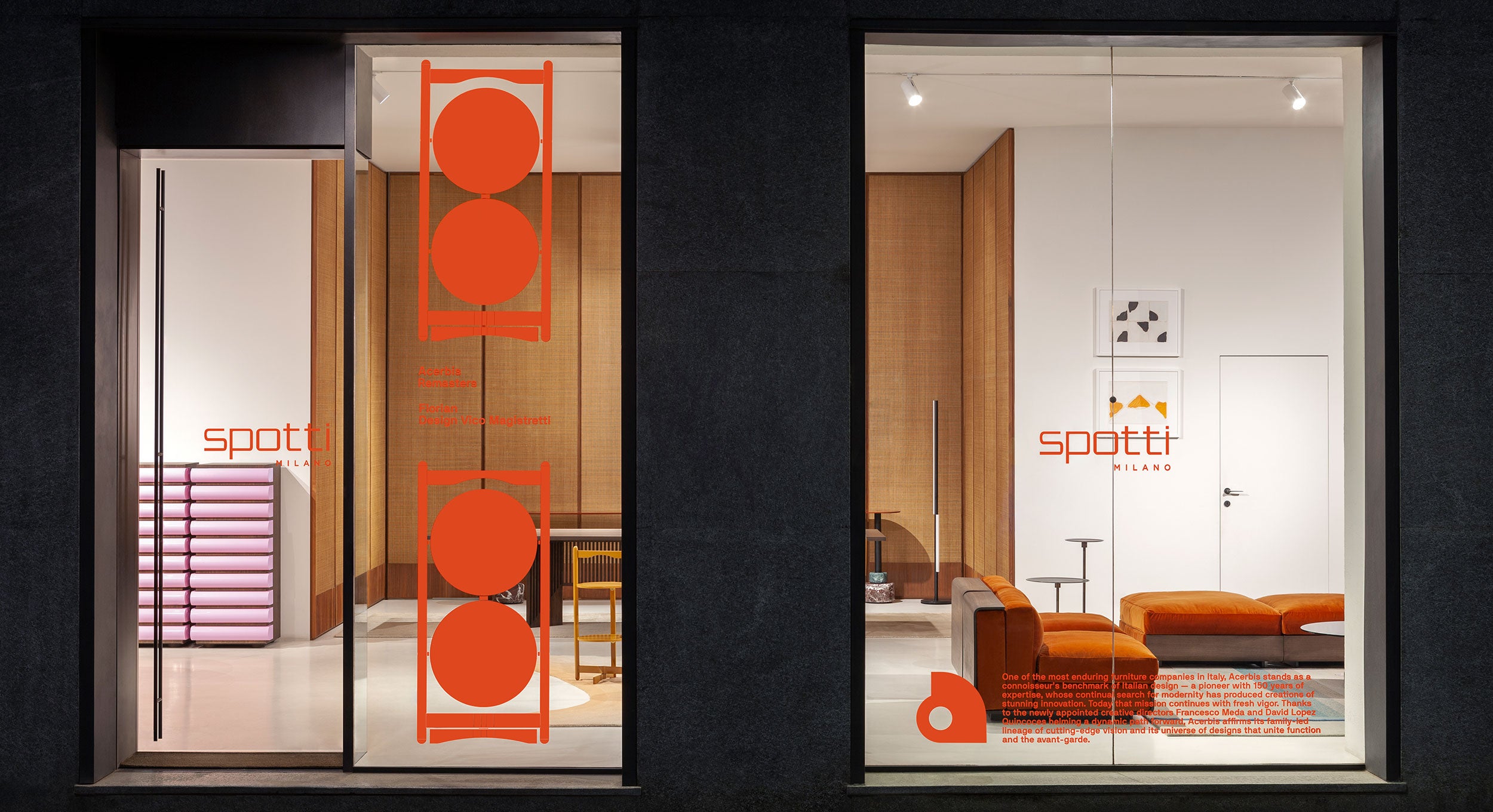 The visionary legacy of the Italian brand, reimagined today by Meda and Lopez Quincoces has new proportions, new colors and new materials for a contemporary investigation into the wonderfully functional icons of the brand.
An example is the lively Storet chest of drawers by Nanda Vigo, with its soft curves and glossy lacquered fronts, which make it a playful and transversal element. Last but not least, the iconic Sheraton sideboard, winner of the Compasso d'Oro in 1979, avant-garde already at its debut, is offered in the new dark green lacquered variant.
On the occasion of the new setting, Acerbis launches the Florian folding table, originally designed
by Vico Magistretti in 1989, one of the new 2021 projects rediscovered in the Acerbis archives. Ingeniously functional, Florian represents Magistretti's extraordinary simplicity: a light multi-level table built on a folding structure inspired by a broomstick, which folds completely to be hung on the wall, transforming itself into a graphic object made up of circles and lines. In the version of Meda and Lopez Quincoces, Florian's dimensions adapt to modern life becoming a democratic passe-partout for the contemporary home.
Discover all the products